Hi fellas! Today, I'm sharing some more mini-reviews with you. I tried writing proper ones but failed terribly so I decided to write something short.
1. Aru Shah and the End of Time
- ★★★★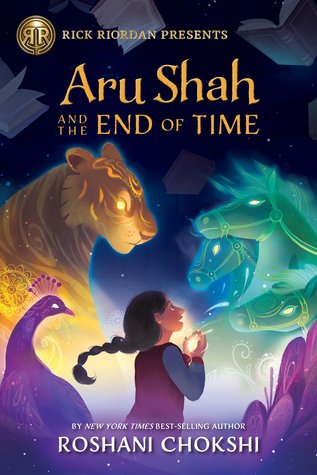 I love the Percy Jackson (and all of Rick Riordan's) books and so I was very thrilled when I first learn about
Aru Shah and the End of Time
. I had high hopes and I was not disappointed because I loved this book!
This is the first novel by Roshani Chokshi that I've read and I loved her writing, it's very good, light and funny and the world and characters she's created are amazing! I loved everything in it (and look at this cover!) that I want to dive right into the next one (if only time travel existed!).

I enjoyed Roshani Chokshi's writing, it was light and fun, totally engaging and beautifully written. I also loved so many wonderful quotes and funny moments.

The story was amazing, I loved it. I remember reading just the synopsis and being captivated by it. So, I immediately started the book and before I knew it, I had already read half of it. I loved the characters and their interactions with each other and I want the next book.
Aru and Mini are so relatable young girls, I love them. They are very well-written and well-developed, their stories may be short but meaningful and they are more alike than they initially think.

The reason I gave this book 4 stars is that I got bored at one point and just wanted to be done with it but I really enjoyed it anyway and loved the action. I also loved Boo (who I found annoying in the beginning) because he was so funny.

I would recommend the novel because it's amazing, funny and the writing is pretty good.
2. Daughter of the Siren Queen
- ★★★★
I never reviewed
Daughter of the Pirate King
even though I liked it. I gave it 3 stars because it reminded me of the stories I used to write.
However,
Daughter of the Siren Queen
is much better. I totally enjoyed it. There were some problems again, but it was so much better. The author has clearly improved her writing and the plot was much less predictable. Alosa is still my kind of character and I loved her. She is strong and independent, and she cares about her crew very much. She also develops as a person a lot in the book and learns about her abilities of a siren with Riden's help.
The thing that confused me was the sirens because it was never said if they had tails or not. From the writing, I can only conclude that they probably don't.
I loved the action and the other characters and I would recommend the series.
Have you read any of these books?
What do you think?