Hello, fellas! Today I'm here with some mini-reviews of books I haven't properly reviewed for one reason or another. Some books are too big (or I just don't have that much to say), others are a part of a series and so on and so forth. I haven't really done a mini-review before so let us hope I do them well enough. (I don't know why but the majority of my reviews, even the positive ones, consist of rants...)
1. The Eye of the World - ★★★☆☆
I believe I read this one in November/December last year after years of it sitting on my shelf. I found it too slow even for my great patience but if I spent years sitting in a tight space, probably I wouldn't be too fast either.
(Bad attempt at a joke.)
Anyway. I'm very conflicted about this one and that's why I gave it just 3 stars. There were so many things I enjoyed and so many I didn't. I was constantly annoyed with some of the characters and even though I liked the end result, the journey wasn't of the most pleasant ones.
(OMG, what's with the metaphors?)
I already said that it was slow, so the other thing that really annoyed me was the female characters. They were so... I don't even have words for them, they were so annoying and I just didn't like how much superior to the guys they felt. I hated their attitude. (It felt like a bad attempt at feminism.) After a while though, they kind of developed and I started to like Nyneave a little, while I still highly disliked Egwene.
As for the other main characters, Rand, Mat and Perrin are interesting, I'm curious to see their development because every one of them has their own special thing. Right now Perrin is maybe one of my favourites. I found his and Rand's parts the most interesting ones.
I also loved some of the side characters, the main idea of the whole series and the fights. There are some interesting things in Robert Jordan's world and I'd love to explore them even further.
After reading this book, I had a lot of questions and I was almost ready to dive into the next one but my deadlines were knocking on my door so I had to postpone it. I had heard that the second book was a lot better but I didn't share this opinion.
(You see, that's why I didn't review it, I can't really put anything into words properly.)
2. The Great Hunt - ★★★☆☆
I'll try to be shorter for this one.
(Hahaha, no, I failed.)
While there were a lot of things I loved about the Eye of the World, I can't say the same thing for The Great Hunt. You may even say, "If you aren't enjoying this series, why the hell do you keep going?!" Well, I like the idea, I want to see what happens, how and why it happens, I want to read this epic fantasy series that people always recommend to me but I also want to read the last 3 books my favourite author wrote because I am an obsessed fangirl.
Anyway, this novel was indeed slightly more fast-paced than the first book, there was an interesting story to it which I liked, I loved how the characters went their separate ways and all. I loved the battles, I loved Rand's development when it comes to fights and pretending, and accepting himself for who he is.
What I didn't like was everyting else that he saw a beautiful woman and all he could think about was her beautiful face, her pale legs, her mouth and Egwene (his first crush). I also didn't like what happened with Nyneave, Egwene and the other two even though it was probably a good challenge. The girls really needed to meet the real world and be hit by reality for once. (Really ironic coming from me.)
It wasn't necessarily a bad book. It was far better than The Eye of the World. I just didn't enjoy it as much as I wanted to and there were a lot of things that annoyed me.
I also got extremely bored when I got to the part that was supposed to be the most interesting one. Opps.
3. Magic Study - ★★★★★
I totally loved
Poison Study
and immediately after I read it I purchased
Magic
and
Fire Study
online.
Magic Study takes place in Sitia and after the great world-building of the first book, the second one didn't disappoint either. I loved it. Everything was perfectly executed in my opinion and nothing was left behind. Maria V. Snyder introduces us to a type of magicians that were only mentioned in the first book- Soulfinders.
The case that Yelena had to work on was pretty brutal and scary, I loved how it was described and basically everything. The family relationships are very well-developed and the new characters are very promising.
There are some mysterious people coming into the picture such as Moon Man. I liked Yelena's conflict with Lief because it was very realistic but the thing that I loved the most about the book is when Valek, Ari and Janco entered the picture as well and started wrecking havoc helping Yelena and the magicians with the murder cases.
I didn't write a review for this book because it is the second one in a series and I didn't want to spoil anything to people who haven't read the first one.
4. Fire Study - ★★★★★
The thing about this book is that it took it forever to arrive and then I just kept getting distracted and couldn't read more than 20 pages a day until I decided to sit down and read for real because I'm in love with this series!
The events in Fire Study are maybe the most challenging of all. Yelena had to not only fight for her life on two fronts but she also had to prove that she is trustworthy and to fight for her relationship. I loved every single page of the book, it was action packed as the previous two and everything was perfectly executed. Another reason I didn't review it (aside from the fact that it's third in a series) is that I just keep repeating the same thing.
There are some pretty interesting things that happened in this book, some of which are probably linked to the next trilogy featuring Opal who makes glass figurines. She had a major part to play in the last events and I loved it.
The mystery around the Commander was finally revealed and OMG, I would have never guessed that something like this could actually happen (although I shouldn't be that surprised given that this is fantasy). Yelena also finally embraces her full potential and accepts her true powers which are amazing!
I am really glad that I read this trilogy and soon I'll continue with the rest of The Chronicles of Ixia.
5. Denver Moon - ★★★★☆
- Minds of Mars
I won two comics and a novella from a Twitter Giveaway and I dived into them straight after I got them because I was very curious.
The Metamorphosis story was quite interesting and I liked it. It's divided into three comics but it's also included as a written story in the novella so I got to read the end. It was interesting, action-packed and the art is very beautiful. It is what got me to read the novella so quickly.
The novella (Minds of Mars) was pretty interesting and intense. I didn't expect to like it so much and for a novella, there was quite a lot of proper world-building. However, since it's a pretty short book, there was a lot of info dump I didn't like and I even considered giving it 3 stars because of that. But I ended up really enjoying it, especially at the end where everything was revealed and I just loved it.
Among the info dump and the action, there were also some boring bits for me but the important thing is that I enjoyed it and if there is another novella in this world, I'll probably read it.
6. To Kill a Kingdom
-
★★★★☆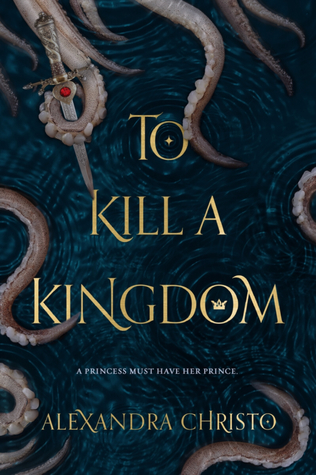 This is a pretty new release and I got really excited about it even before I actually read the synopsis because the title sounds exactly like something I'd want to read. So I requested the ARC copy from NetGalley and was approved!
So, let me tell you that I didn't know this was a retelling of
The Little Mermaid
and when I found out I almost decided not to read it because I don't like reading about mermaids. BUT! This isn't about mermaids but sirens. I also know close to nothing about the original story or the Disney version because I never read or watched it.
(And I found it surprising when two of my friends said that they haven't watched Mulan. How dare they! How dare I!)
I know the basics.
Anyway, after reading the synopsis I decided to read the book anyway and this is maybe the best decision I've made in March because I fell in love with the book!
Now, don't get me wrong, it's a 4-star read for a reason. It took me days (days!) to get into it. I couldn't move past the first 30% and if I hadn't been patient (thanks to The Eye of the World and The Great Hunt) I would have probably DNFed it.
It's just that in this book I found two of my pet peeves and I couldn't believe my luck because they are maybe my most hated ones- the book is written in present tense (which to me just screams
rookie!
), and there are two different points of view (POVs) which wouldn't have been too bad if they weren't written in the first person. On top of that, there was no order to them and I had to guess almost every time whose POV I was reading from because the name wasn't mentioned beforehand (which is a nice thing to do in a book written this way). Aside from all of this, I totally loved it.
Once Lira and Elian met, I started enjoying the book very, very much. The Evil Queen was a believable character and Lira and Elian are such sweethearts! They fight, they are strong, they know what they want, but the most important thing of all- they went through a major character development and I am so glad I decided to read this book! I loved the magic and how action-packed it was, there were also some schemes and I just enjoyed this so much!

(There was also quite the detailed world-building which I didn't expect and is another reason I loved this book!)
Yes, I do realise that my mini-reviews are as long as a proper review. However, I tend to write very long and detailed reviews and when I can't, I feel disappointed in myself so I decided to wait until I have like 2 or 3 books I haven't reviewed and do a similar post about them. I really hope this was helpful!
Have you read any of these books?
Do you have any of them on your TBR?
What do you think? Would you read them?