Hiya fellas! I did my exam yesterday so I'm back! Today I'm sharing with you the books I read and the ones I couldn't finish. I read enough book this month but they are still less than I would have wanted to. It took me a lot of time to read some of them because I had to combine a lot of uni work and reading, I also had trouble with finding a good novel at the end of the month.
(I'm adding this quick edit before publishing to let you know that my original list of books I've read was of 5 because I had forgotten to list almost half of them...)
1. Children of Blood and Bone
At first, when I saw the title of this book I was very confused. I forgot that I finished it this month, haha.
Anyway, I was quite curious and excited about it. I had seen great things about it, the diversity was on point but this book just proved to me that it was extremely advertised because of its all-black cast and nothing else. I can't say that the story is original or that even the characters are original, I struggled with connecting with the characters or even liking them.
I don't want to write full reviews again so you can check out my
REVIEW HERE.
2. School for Good and Evil
I loved this book. I had some problems with it, but my overall opinion is that it is a great middle-grade book. I have a
MINI REVIEW
linked
HERE
and in the title of the book.
3. Aru Shah and the End of Time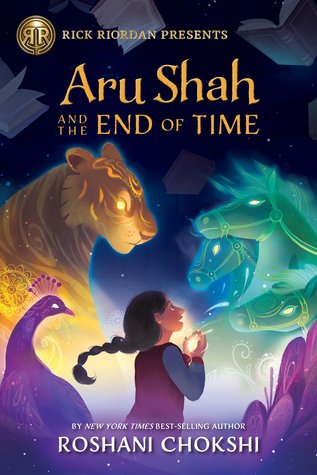 I also enjoyed this book very much. I wanted to read it ever since I heard about it and I was very excited. It sounded great and it is. It's a great novel and I wish I could read the second one soon.
I also have a
REVIEW
for this one.
4. Daughter of the Siren Queen
I read Daugther od the Pirate King last year before I had even started considering launching a blog in English so I don't have a review for it. I remember that even though I liked the book, I found a lot of newbie mistakes similar to the ones I used to make when writing.
The sequel is far better. There is still much work left to do when it comes to her writing but I loved the second book so yeah.
5. The Secret History
This is a novella I read while I was on the plane. It's about Kelsier who is one of my favourite Mistborn characters. It turns out that his story continues and I loved reading it. I don't usually like novellas but I enjoyed this one, it was very interesting and I'm glad I read it.
I loved this book even though it had some problems. I have a
REVIEW
again so I'm not going to go into any more details.
Do you like books about pirates? Do you want to read about all-female crews with some action and suspense? Well, this book is for you and if you'd like to learn a little more about it, you could go to my
MINI-REVIEW.
Hex Hall is the book that got me into reading. It is the first book that I picked up at a supermarket because I liked the cover and synopsis and read it.
It has big sentimental value to me and I'm so happy I got the chance to get back into the world of my old favourite trilogy.
9. Bleach Vol. 55-64
I also started reading some manga again. I wanted to get back into this world but there are so many weird things happening, so many characters dying and I just don't know what's happening. I don't know if I am going to finish reading it. So many of my favourites died already but I'm also curious, haha. We'll see.
DNF (Did Not Finish)
It's time for the DNFs. Let me just say in advance that this is my own opinion and I do not tell anybody what to or not to enjoy. (All of these books were sent to me for review but I don't want to fill my blog with too much negativity. I usually don't have a problem sharing when I didn't like a book but I don't want to share 3 negative reviews at once. I will contact the authors to let them know.)
I am rarely lucky with indie authors by the way. (My lucky choices are Mira Monroe, Lucy Leroux and Elodie Colt.)
I like books of this type. Even though I am a much more experienced reader than I was before, I still love such books about a girl that goes somewhere else and finds out that vampires are real. However, what I love even more is a well-written story with relatable characters.
While I liked the writing for the first several chapters, I couldn't stand anything else and the fact that this book has received awards made me feel even worse than the fact that I would have to leave a negative review.
The thing that I found the most annoying was the main character's insecurities that made her just super dumb. She is overweight (and I want to point out that I'm NOT saying anything about it, I don't give a sh*t about what she looks like) what annoyed me was that she would mention being fat (HER choice of words) on EVERY SINGLE PAGE and all I wanted to do was shout, "I know, you don't let me forget!"
You know how vampires in Twilight sparkle and people can recognise one for a vampire when the see them sparkling? Well, let me tell you that convincing the main character of this book that vampires are real did not require them flashing their fangs at her (even though they did) no, the guy flashed her his glowing BLUE eyes and she was like "Yes, he is a vampire" BECAUSE HE HAS GLOWING BLUE EYES.
For those of you who follow me on
Instagram
- you probably saw me ranting about this in my story.
The writing is nothing special. It's full of clichès and stupid characters. Fae live in Elfi, their village is called Pixie Bush and the MC's name is Aurora and I just couldn't take this book seriously. The evil queen's name is Morgana so I had a lot of King Arthur vibes.
Aurora was embarrassingly stupid and she would ask several times the same question and receive the same answer:
Aurora: "Where are you taking me?"
Guy: "To the queen."
Aurora: "Where are we going."
Guy: "To the queen."
Aurora: "But...where are we going?"
She also cries 10 times in less than 70 pages. I mean, I didn't even manage to get to page 100. It was that bad.
(I also believe that I signed up in a form for this and I have no idea whom to contact.)
3. The Shadow
I actually won this book in a giveaway and tried reading it but didn't get too far into it before I was too bored. The Reason I DNFed it is because I just couldn't gge into it and may give it another go at some point when I want to read something like this.

Have you read any of these books? Did you enjoy them?
Do you DNF books?
How do you feel about sharing negative reviews on your platform?